The Giraffa Beetle is a beetle monster that first appears in Etrian Odyssey Untold.
Giraffa Beetle (Etrian Odyssey Untold)
Edit
Giraffa Beetle
Description
A large beetle that dwells in the forest. It has a durable shell and attacks with its giant pincers.
Enemy Data
HP
327
AT
14
DF
12
EXP
240
Skills
Strike Up
Items
Beetle Jaw
Weakness
Ice
Resistance
Slash, Pierce, Crush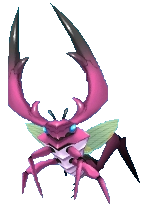 Giraffa Beetles will begin to appear on B4F of Emerald Grove, and continue to appear into B5F. Their attack, Strike Up, will hit both a front-line party member and a member behind them.
Locations
Edit
Emerald Grove: B4F - B5F
Gladsheim: AREA I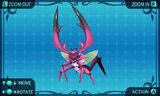 Ad blocker interference detected!
Wikia is a free-to-use site that makes money from advertising. We have a modified experience for viewers using ad blockers

Wikia is not accessible if you've made further modifications. Remove the custom ad blocker rule(s) and the page will load as expected.