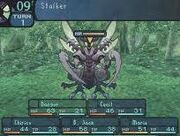 There are many different monsters inhabiting the Yggdrasil Labyrinth.
For more info about an enemy, click the link to check its page.
Common: The common normal monsters that are fought in random encounters.
FOE: Mini-bosses that are fought when they are touched on the field.
Stratum Boss: The Boss of said stratum. It needs to be defeated to advance further.
Superboss: Optional bosses with great power. Often hidden, and require a quest to be fought.