Sitoth Trading is Lagaard's center of commerce. They buy raw materials and then their artisans use these to develop all sort of products, which are then sold back. They also send some of these materials to Lagaard Hospital, where these are turned into medicine and then shipped back to Sitoth Trading.
Their stock is not infinite, though, so if they run out of materials then they will eventually run out of crafted wares to sell as well.
Potential clients are greeted by Abigail, a young girl in charge of the counter who is still learning the trade. She will both buy materials and sell crafted products. However, the one actually running the business is Abigail's father, the chief artisan working behind the scenes whom we never get to meet.
Life in Lagaard
Edit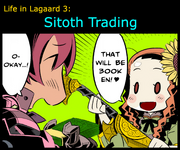 We get so many customers here! Lots of explorers come back from a rough day in the Labyrinth with many rare items to sell. I bring the items to my father's workshop, where he tells me how much to charge for the things he makes.

But… I made a mistake the other day. I wrote down one too many zeroes on the price of a sword. B-But the warrior happily paid anyway, and I don't think anyone notice… so don't tell anyone, okay?


—Abigail, Etrian Odyssey II
There is a delicatessen located left to the shop, across the street of a tall building. According to Abigail, one of the recommended dishes there is a snack where they mix ground beef and potatoes, and then fry it all up.