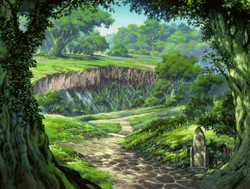 In
Etrian Odyssey Untold: The Millennium Girl
's story mode, you are able to not only explore the Yggdrasil Labyrinth at the edge of the town, but you are also able to explore Gladsheim, a ruins that is the supposed source of earthquakes that are happening throughout Etria.
Labyrinths
Edit
Yggdrasil
Edit
A beautiful, but dangerous, forest that resides on the edge of Etria. Adventurers are told to explore the first floor in order to become a full-fledged adventurer, and both guilds and soldiers are told to explore its depths.
Gladsheim
Edit
An ancient ruin that is said to be the source of recent earthquakes. Told to go explore the anomaly, you find that there are others who are researching the same ruins...
Important Notes
Edit
When entering a new floor in the Yggdrasil Labyrinth, the player is not able to use Floor Jump until a majority of the map is filled out and both staircases have been found. This includes outlining the paths the player is able to make. The player is can only Floor Jump from floors that have it activated, and only to stairs that have been activated.
In order to progress further in Gladsheim, each stratum must be completed. Once finding the Geomagnetic Pole in the next Stratum, the player is then able to teleport to a new area. Only one pole is connected to each area of Gladsheim. (As in, the player cannot used the Geomagnetic Pole in the Azure Rainforest in order to get to Area I of Gladsheim.)
Unlike in the Yggdrasil Labyrinth, once a boss in Gladsheim is defeated it will not appear again. FOEs, however, will still appear.
Ad blocker interference detected!
Wikia is a free-to-use site that makes money from advertising. We have a modified experience for viewers using ad blockers

Wikia is not accessible if you've made further modifications. Remove the custom ad blocker rule(s) and the page will load as expected.