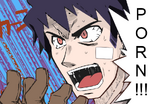 A couple days ago I wanted to make my profile slightly nicer and decided to try coloring an image of the maniacal male landsknecht (my favorite character, btw) that I got from a b&w doujin. The end result was way better than I had expected.
Today, I decided to try again with the next image from the same doujin (forgot its name, I kept only these two images), and again feel that it was a nice result.

Now straight to the point: Right now I'm in the mood to colorize b&w manga images. Any suggestions? Only single pages/images please, not a whole manga. One image is enough to tire me out for a couple days. :P
By the way, I'm planning to eventually colorize the official "Explorer's Log" short webcomic as well.
Ad blocker interference detected!
Wikia is a free-to-use site that makes money from advertising. We have a modified experience for viewers using ad blockers

Wikia is not accessible if you've made further modifications. Remove the custom ad blocker rule(s) and the page will load as expected.