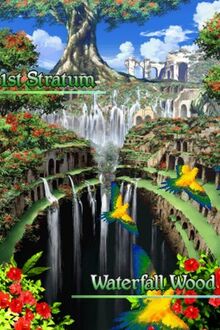 A glorious journey's start
Marshlands of misfortune
The surging river shores
Bladed ordeal in the muck


—Floor descriptions, Waterfall Wood

Waterfall Wood is the first stratum of Etrian Odyssey III: The Drowned City. It is a series of tropical woodlands divided by large waterfalls that drain into a large chasm. A variety of creatures such as frogs, lynxes, and insects inhabit this maze. In many places, muddy terrain can impede explorers progress, requiring care if any FOEs are nearby.
Harvesting
Edit
Chop:

Soft Bark, Supple Branch,

Palm Trunk

Take:

Anra Fruit, Small Flower,

Hibiscus

Mine:

Phonolite, Topaz,

Chalcophyllite
B1 (Chop)
C3 (Mine)
C5 (Take)
Fanged Fish
Forest Frog
Claw Shrimp
Great Platypus
Great Lynx
GigapedeNight
LargebillDay
Great Platypus
Fanged Fish
Claw Shrimp
Venomshroom
Scylla Crab
Great Lynx
GigapedeNight
LargebillDay
Star Door
Edit
Applies to B1F & B2F
Starry Slug
Great Anaconda
Moon Door
Edit
Star Door
Edit
Moon Door
Edit